The mobile ImagingRing (IRm) is a (Cone Beam) Computed Tomography (CB)CT medical imaging system. The light robotic device supports flexible positioning of X-ray components on a large diameter but slim gantry with bore size 121 cm for convenient accessibility. In addition to the dual energy X-ray source and the 43 x 43 cm active area flat panel, the system is equipped with optical sensors, lasers and cameras and drive units for synchronous motion of 26 (!) axes to accommodate robotic positioning and image acquisition in all degrees of freedom. These features allow integration of the IR m into a variety of clinical environments and treatment systems, like image guided radiation therapy with particle beams, intraoperative linacs or brachytherapy units. The ring is specifically optimized for applications in interventional radiology and navigated surgery (partnered with Brainlab).
The unique design, based on two rotating arms carrying an X-ray source and flat panel detector mounted on a ring gantry made of a strong and rigid aluminum compound structure, allows an exactly reproducible yet freely independent positioning of the imaging components for highly flexible imaging tasks. Non-isocentric, rotational movements of source and detector are facilitated via highly precise and low noise ball bearings. The mobile system and each of the arms is battery powered for easy transport and maneuvers in clinical settings. The innovative drive concept uses an internal control system of extreme slim form factor. High performance computing power is provided for real time processing of image frames at highest frame rates to support inline reconstruction of 3D volumes during the acquisition. Due to a sophisticated cable guidance system inside the gantry, X-ray source and detector can rotate more than 530 degrees around the patient, giving the flexibility for full-arc large field of view (LFOV) acquisitions.
Image acquisitions are possible as 2D planar projections, in fluoroscopic mode and as reconstruction 3D volumes in highest spatial resolution tissue contrast. Topograms can be acquired as scout views, for easy and precise definition of the region of interest (ROI) and to automatically optimize exposure settings to minimize imaging dose to patient and operators in intraoperative settings.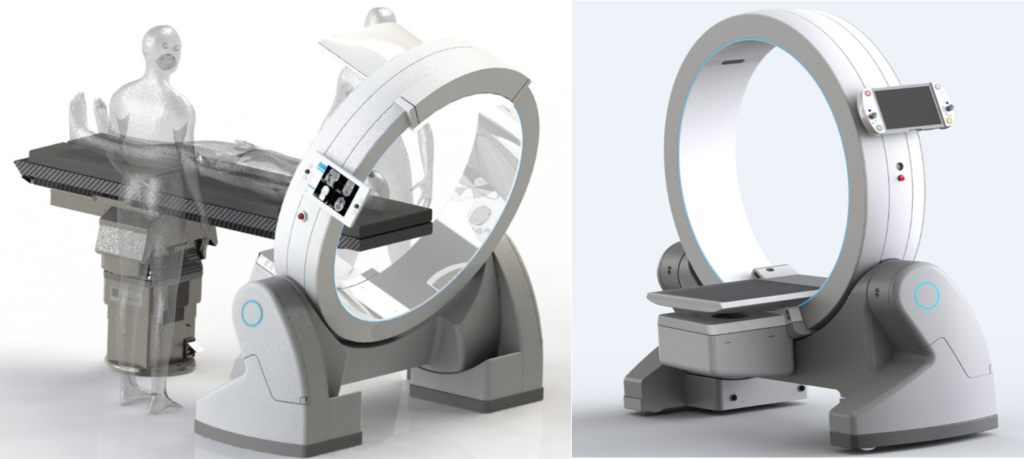 The independently moveable imaging components allow for extended field of view images via the automatic stitching of images. Non-isocentric dynamic image acquisition protocols can be performed, allowing one to focus and dynamically collimate the X-rays on certain regions of interest and thereby reducing the imaging dose to the patient. The system is prepared for high frame rate dual energy imaging to improve tissue characterization in soft tissue and bony anatomy.
The mobile ImagingRing (IRm) is a digital X-ray system which supports both 2D planar X-ray and 3D Cone-Beam Computed Tomography (CBCT) image acquisition and reconstruction of selectable anatomical regions of interest. The IRm's mobility concept comprises four wheels that enable linear and rotational motion of the device in order to align the imaging device with the patient such that the desired anatomical region of interest is covered in the produced images. Additionally, gearboxes integrated into the legs enable a tilt of the ring gantry which further facilitates alignment with the desired anatomical imaging region.
Means of Control
The IRm device provides a detachable Human Machine Interface (HMI) with a display and all required components for full control of the imaging device. It allows execution of all steps of an imaging workflow; from positioning of the device for imaging, defining of an imaging protocol and the region of interest (ROI) to acquisition and review of the images in 2D or 3D before export to a DICOM AET. Additionally, connectivity with surrounding and/or higher level image guidance management systems such as Radiotherapy Treatment Control Systems (RTCS) or surgical navigation and surgery assistance systems is enabled by providing defined software and hardware interfaces.
Clearance
The medPhoton CE approval of the ImagingRing mobile (IRm) is planned for Q1/2020 and FDA submission for 510(k) clearance is expected by Q2/2020.
Contact
For more detailed information about the ImagingRing mobile, please feel free to contact us at sales@medphoton.at.